The restaurant where time stood still
Restaurant where time stood still
The Coliseum Cafe and Bar,
98-100 & 102 Jalan Tuanku Abdul Rahman,
50100 Kuala Lumpur, Malaysia
Tel: +603 2692 6270
The Coliseum Cafe takes its name from the old cinema next door. Elbow your way through the heavy swing doors and you take a step back in time. Small round tables, old red leather-backed chairs surrounded by dark wood wainscotting. At the far end the barman, in white shirt and dickie bow, presides over a bar of the same dark wood. Old press cuttings detailing the history of the bar and faded caricatures of some of its past denizens adorn the walls.
On the right, flanked by an old hat sand, is the entrance to the main dining area. It is a spacious room with the same wainscotting, pale walls and panelled ceiling with large fans. The tables are set well apart from each other, clad in crisp white table linen decorated with bottles of ketchup and HP Sauce. This is not a reconstructed "dining experience," this is the real deal.
The restaurant opened in 1921. Back then it was popular with the British colonials looking for Western food and cheap beer. These days it is popular with locals and expats alike as well as a steady stream of tourists who enjoy the authentic, unpretentious atmosphere and beer that is still very reasonably priced.
THE MENU
The menu was developed by chefs from Hainan Island in China who gave their own subtle twist to Western dishes as well as some of their own. Long-standing favourites include Baked Crab, Sizzling Steaks, Hainanese Chicken Chop and Grilled Black Pepper Chicken.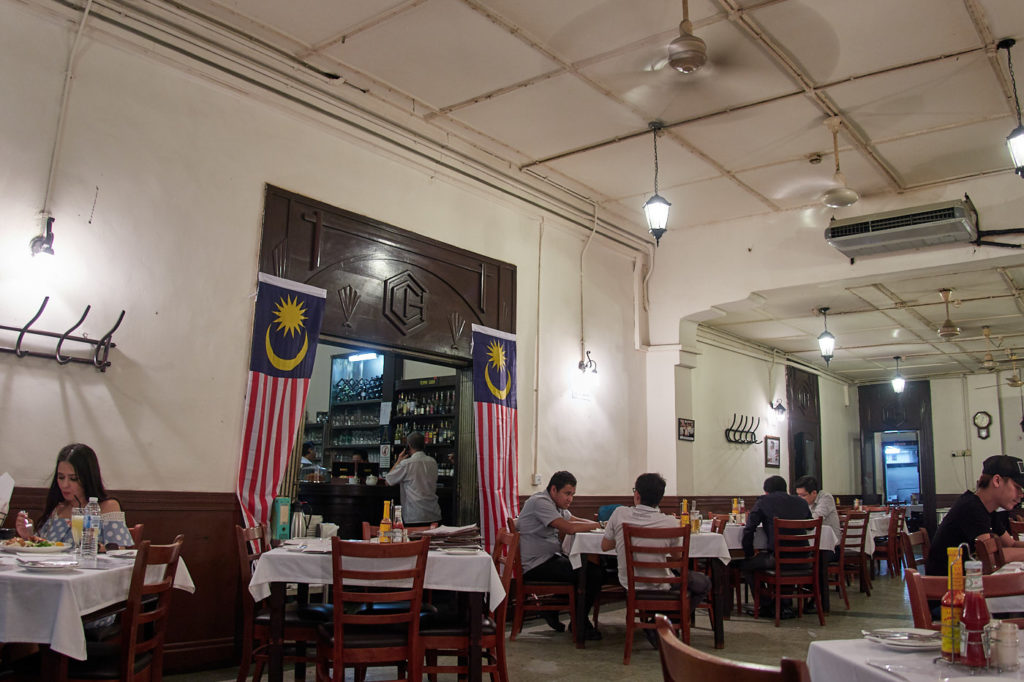 I went on a Sunday evening but, after a busy weekend, the Baked Crab was sold out. The French onion soup made for an agreeable second choice and the Grilled Chicken Caesar Salad was generous.
The sizzling steaks are probably the restaurant's most popular main. Staff will provide customers with a protective bib before wheeling out the steak on a trolley. They are served on a hot plate with grilled vegetables and steam billowing everywhere. They are not selfie-friendly though as the rising steam tends to mist up your phone.
Conventional steaks and burgers are also available. I went for the grilled tenderloin, which was lean and, as the name suggests, very tender. Served with chips which were nice and thick and salad which was a bit pedestrian. I found myself gazing longingly at the grilled tomato and corn behind their cloud of steam on the far side of the table.
There are numerous desserts to choose from including familiar items such as Apple Pie and Creme Brûlée. The banana fritters cooked in a crispy but light batter and served with vanilla ice cream are well worth investigating.