Craft beer and burgers at Chops, Hanoi
Craft beer and burgers at Chops, Hanoi
Chops
12 Hàng Bạc,
Hoàn Kiếm,
Hanoi, Vietnam
Phone: 024 66 867 885
The Chops logo features a gentleman with a long droopy moustache. He wears a hat with a star on the front, presumably red though the drawing is in black and white, and a butchers apron. His arms are folded high across his chest and he is holding a large meat cleaver in his left hand. I don't know if he represents anyone specific but I'm not sure I would want to meet them in a dark alley. Hàng Bạc is a road not a dark alley but it is not exactly a wide road. It is in Hanoi's Old Quarter and was once noted for its jewelry shops and goldsmiths. These day it is packed kerb to kerb with traffic for most of the time. Mr Chops scowls down on it from the front of his restaurant.
Should you dare to go in; however, you'll find the staff are as charming and sweet as you could wish for. They spoke English confidently, shepherded me to a table and gave me the menu with lots of smiles and zero fuss.
There's plenty to choose from on the menu. Half a dozen starters including old favourites such as onion rings and nachos. If you have enough people you can order a tasting plate that includes all six. I gave a nod to the chili poppers.
There are twenty kinds of burger and most of them looked good. Burgers with brie cheese, burgers with jalapeño. There is a breakfast burger with bacon, egg cheese and a hash brown. The Boss Hog is made with slow pulled pork and hickory barbecue sauce and there are burgers made with chicken, fish, and lamb. Vegetarians can choose between tofu with papaya salad and chickpea with feta and hummus. I ordered a comparatively pedestrian Beer and Blue. A Beef patty with blue cheese, smoked bacon, lettuce and tomato.
To wash it down I plumped for a bottle of 7 Bridges Imperial IPA. The beer, brewed in Danang, is slightly fruity but also bitter and hoppy. With a ABV of 9% it slid out of the bottle sideways, put an arm around my shoulder and insisted that it was the best friend I'd ever known.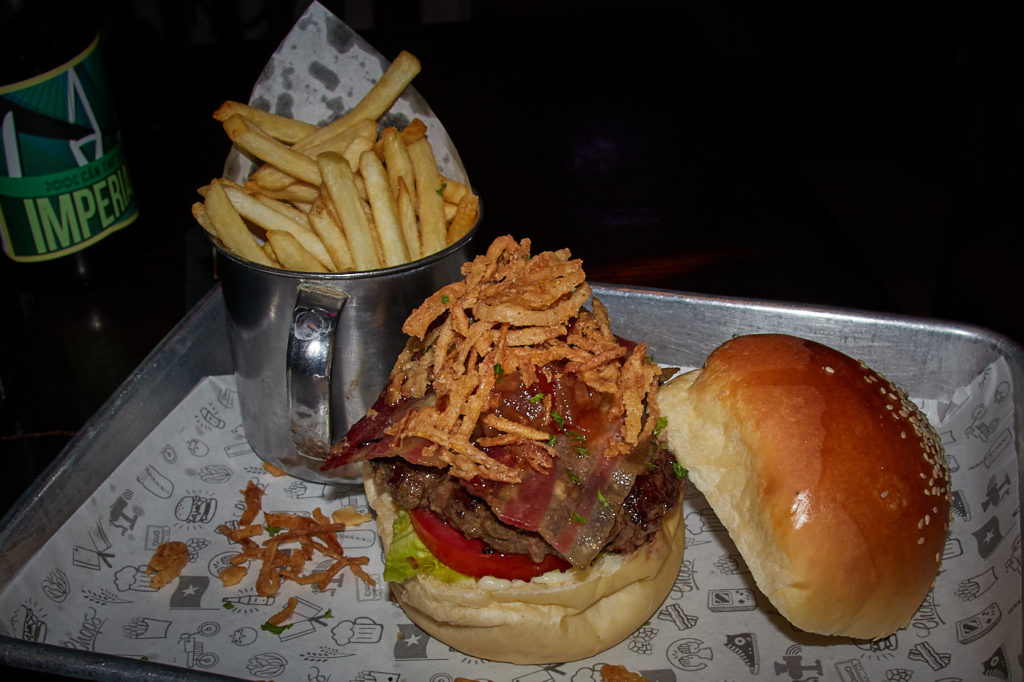 I'd already guzzled half of it and was beginning to agree when the arrival of deep fried chili poppers brought me back down to earth. The poppers are stuffed with a delicious mix of harissa yoghurt and cream cheese. They are hot in the other sense of the word too and care needs to be taken when biting into them. Not only to avoid burning your mouth but also to limit the risk of sending out a jet of blistering hot cheese and yoghurt from the far end of the chili into the palm of your hand. A paper napkin acts as a useful barrier and a little pot of dip thoughtfully placed on the side of the plate allows you to replenish the stuffing.
More Interesting eateries around Asia
The burgers are made from Australian wagyu beef and will be cooked medium unless otherwise specified. The buns are baked fresh every morning and despite the beef being juicy and tender the bottom didn't disintegrate like so many others do. It complemented the beer perfectly.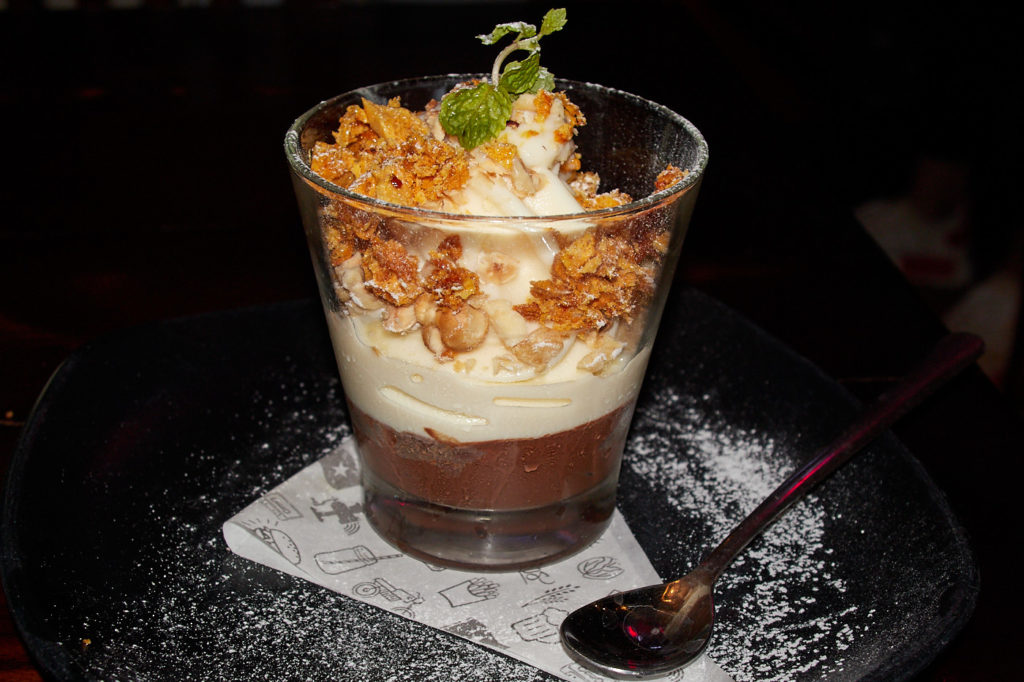 The dessert choices aren't as interesting as the burger menu just cheesecake and ice cream. I went for the chocolate ganache. Ganache is a sticky chocolate sauce. Here it was chilled and topped with ice cream. The chilling made it seem thicker and fudge-like and the whole lot was garnished with broken pieces of biscotti and almond.
Mr Chops makes quality comfort food and the local craft beer had impressed me greatly. From where I sat I could see a chorus line of bottles, they were singing softly to me. I bit my lip, sighed and asked for the bill. I needed an early start in the morning